What Sets Us Apart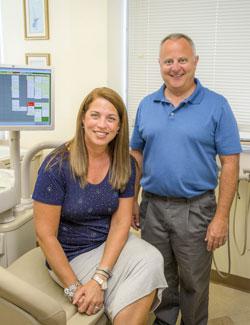 The Drs. Love and Miller Difference
We listen to our patients. We'll listen to you. Dr. Melanie Love and Dr. Mark Miller recognize that you're an individual with specific needs and concerns. They'll listen to your concerns and goals.  Then they will partner with you to find the care solutions for your situation.
You'll always be seen and treated as a whole person: we respect your individuality and want to get to know you. The better our doctors and team members understand your life, hobbies, and habits, the better we can help you attain optimal oral health and an amazing smile.
Your First Visit

When you come to see us for the first time, you'll spend more than an hour with the doctor. This is how we start learning about you and how we can best serve your needs. You'll receive a thorough oral exam, looking at your mouth's hard and soft tissues, along with an oral cancer screening.
The doctor will discuss what they've found during the exam, and explain any areas of concern. They will then explain the treatment options and answer your questions. Based on what the two of you decide, they will develop your unique care plan.
Our doctors feel this extended initial visit is essential: it gives us an opportunity to start building a lasting relationship with you. We need to know who you are, and you need to feel safe and comfortable in our care.
Patient Comfort

You and your comfort are our top priority during your visits. We'll greet you by name and with warm smiles. One of our team members will personally bring you into your treatment room, where you'll be offered a pillow, blanket, and headphones if you'd like to listen to music during your treatment.
If there's ever anything you need during your visit, don't hesitate to ask. We want you to feel relaxed and know you're caring hands while with us.
Schedule a Complimentary Consultation

It's essential you find a dental office where you know you'll receive exceptional care, delivered by people you like and trust. Please call to schedule a complimentary dental consultation at our Falls Church, VA office, today. We welcome patients from Arlington, McLean, and all surrounding communities.
Everyone at Drs. Love and Miller looks forward to meeting you. We'd love to help you realize your goals of excellent oral health and a beautiful smile!