Meet The Team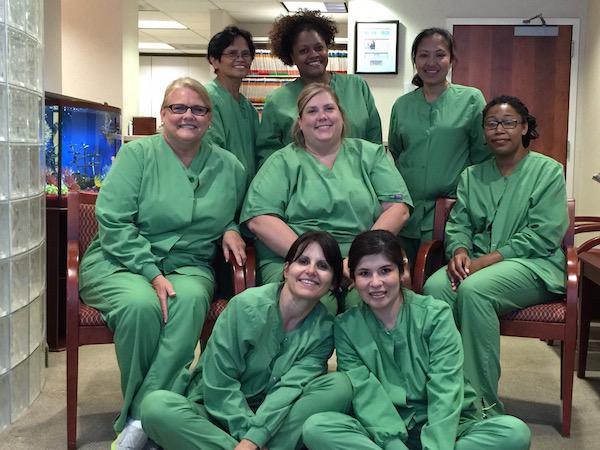 Cindy - Hygiene Coordinator

I've been part of this practice since 1999. Here we develop lasting relationships with our patients, I love talking and laughing with everyone. My days are spent helping friends reach and maintain excellent oral health. It's a pleasure to work in an office where our doctors and the team truly care for each others' welfare and our patients. We're committed to delivering painless, incredible dental care that's tailored to each person's needs.
I'm originally from New Jersey. My husband and I have two dachshunds: Oakland and Madden. In my spare time, I love taking "the boys" for walks, losing myself in a good book, and being with my family.  I can also been seen riding around on my Harley Davidson motorcycle.
Shanae - Financial Coordinator
I've been part of this remarkable team since 2008 and love the one-to-one interaction I have with our patients. Getting to know them on a personal level, learning about their families and interests, creates a strong bond. It's a great feeling to help them navigate the financial matters associated with dental care, making it possible for them to get the treatment they need. In addition to being our insurance guru and making sure patients get the most from their coverage, I also handle collections, scheduling, and treatment planning. 
In my leisure time I love to shop and to cook. My favorite sport is football, but I'm not gifted enough to play it!
Bebe - Hygienist
I have been part of this practice since 2001 and still love coming in and seeing my patients every day. During their visits we talk about their life and interests. Not only do these conversations create friendships, but also give me insight into areas of dental concern. While I'm cleaning teeth and performing other hygiene duties, I educate patients about their oral health and its connection to overall wellness. I talk about their specific dental hygiene concerns and areas where improvement is needed, which usually means changes in habits. When a person comes for a recall visit and I can see they've made those changes, I'm thrilled with their healthy smiles.
Diane - Hygienist
My patients are the highlight of my work day. Having started with the practice in 2004, I've met some very interesting people and had great conversations. I enjoy helping people improve their dental hygiene and seeing healthy, beautiful smiles. I assess the patient's oral health and screen for oral diseases. I also perform routine cleanings, take X-rays, and administer periodontal therapy. Most of my day, though, is focused on dental hygiene education.
When not at work, I enjoy spending time with my family in Western Pennsylvania, especially my young granddaughter. My fiancée Bill and I enjoy symphonies, plays, and Steelers games.
Laurel - Dental Assistant
I love meeting new people and helping them achieve their dental goals. Every person has their own stories to tell, and I love when they share their life with me. I'm here to make sure each patient has a wonderful visit. I bring them into the treatment area, make sure they're comfortable, and prepare them to see the doctor. I explain what we're going to do and answer any questions. Then I support the doctor and patient during the procedure. When finished, I ensure the patient understands their post-op instructions. I've been part of the team since 2012 and love it here.
I've lived in Nokesville for more than 25 years. I have three grown children and three grandchildren, as well as my corgi, Maxine. When not working I enjoy the outdoors, hiking, and time with my family.
Nella - Dental Assistant
I joined the team in 2004 and I love the fun environment of this office! My favorite part about my job is that I am able to meet new people all the time, while also continuing friendships with long time patients.  I assist the doctors in all types of dental procedures, take impressions and x-rays, do bleachings, and do sealants.  One of the most fun things is child re-care.  
I grew up in the Philippines, right next to the Pacific Ocean.  I love gardening and the beach!
Mesi - Dental Assistant
I love helping patients achieve and maintain a beautiful, healthy smile.  This is my first time working in the dental field and I enjoy assisting the doctors with procedures.  I joined the team in 2018 and I have learned so much.  Everyone in the office works so hard to give patients what they want.  
When I am not at working, I love to read and volunteer in my community.